Analysis
All Austrian parties have now nominated their top candidates but the campaigns will only get started in February or March. The nominations already revealed the split within the governing coalition between the pro-EU head of the OVP list, Othmar Karas, and Harald Vilimsky the leader of the junior coalition party, the far right FPO.
The latest poll from early January predicts a tight race between Conservatives (OVP) (27%) and Social Democrats (26%) with the Freedom Party (FPO)23%) close behind. Liberal Neos (9%) and Green Party (8%) would re-enter the European Parliament, while Jetzt – Liste Pilz (2%) would miss out.
Austria will gain one additional seat thanks to the share-out of seats vacated by British MEPs.
The biggest surprise so far has been the change of heart of the former Socialist leader Christian Kern. He initially announced that he would head the SPO list and was considered a likely choice as Spitzenkandidat for the Socialist group. However on 7 October he announced that he was retiring altogether from politics, giving as reason that he did not want to overshadow the position of his successor as SPO leader, the former Health Minister Pamela Rendi-Wagner.
Heute, 18 Uhr! Pamela Rendi-Wagner und Robert Menasse diskutieren. W as ist, kann und soll Politik.
Das Gespräch findet im Wiener Bildungszentrum statt - als Teil der Reihe "Sichtweisen" - Livestream auf Pamela Rendi-Wagners Facebook Seite.
Kommt vorbei! https://t.co/X5QWI2tROV
Twitter feed video.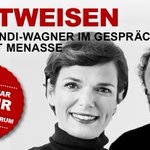 Die SPÖ ist für #Oekostrom - doch im Gegensatz zur ÖVP sind wir für Förder-Transparenz!
Statt das Gesetz zu verbessern, verbreitet die ÖVP Lügen über uns: über teure Inserate - mit Steuergeld finanziert.
Wir haben Anzeige gegen den #ÖVP-Klub erstattet!
https://t.co/maCfeqw5Wq
Load More...