Analysis
Denmark will hold two elections in 2019 – for the European Parliament (EP) on 26 May and a national election which must be held before June 2019. The EP election will be seen as a secondary election compared to the national one where a minority Social Democrat government could replace the current Liberal governing coalition.
The voter turnout during EP-elections in Denmark is above the EU average  (56,3% in 2014) but still very low compared to local and national elections. According to Eurobarometer, the Danes believe that immigration, terrorism and climate changes are our greatest challenges at an EU-level.
The 2019 EP elections will see two new parties: the Red-Green Alliance and The Alternative. They are both represented in the Danish parliament. The Alternative nominated MP, Rasmus Nordqvist, as leading candidate and Red-Green Alliance nominated MP, Nikolaj Villumsen.
The government party, Liberal Alliance, were not elected in 2014 but are running in 2019. They have nominated their Minister for Culture, Mette Bock, as leading candidate and will elect the remaining candidates in January 2019.
If Great Britain leaves the EU before the next election as planned, Denmark will gain an additional seat.
Latest polls (and projected number of seats) 
The list of candidates can be found on the website of the EP's office in Denmark
http://www.europarl.europa.eu/denmark/da/om-ep/kandidater-til-eu-valget-2019
Tre danskere har mistet livet efter rædselsfulde, kujonagtige terrorangreb i Sri Lanka. Statsminister @larsloekke udtaler: "Det må ikke få os til at rokke på troen til os selv, vores egen samfundsmodel og måde at leve på" #dkpol https://t.co/1IR71JWkmw
Vores dybeste medfølelse for ofrene for terrorangrebet i Sri Lanka. Vores tanker er hos de pårørende og borgerne i Sri Lanka. Statsminister Lars Løkke Rasmussen holder pressemøde kl. 18.30 om situationen #dkpol #dkmedier
Twitter feed video.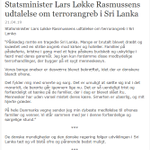 Nyt ugebrev fra @Kristianthdahl: Vi bruger færre penge på udlændinge = flere penge til velfærd! #dkpol
Vi bruger færre penge på udlændinge = flere penge til velfærd! - Dansk Folkeparti
Man kan da kun være i godt humør i disse påskedage, hvor mange kan tillade sig at holde et par fridage i det dejlige vejr. Og med Avisen Danmarks f...
danskfolkeparti.dk
Load More...