Analysis
After the parliamentary elections held in April, Finnish political parties have focused most of their efforts on the government negotiations. As the Social Democrats won the elections with 17,7% support it was confirmed that the Chair of the Social Democratic Party (SDP), Mr. Antti Rinne, would start as the government negotiator. Parties included in the current negotiations are the Social Democratic Party, the Centre Party, the Greens, Left Alliance and Swedish People's Party. If the government is formed by these parties Finland's balance of power will move from center-right towards left.
The second biggest, eurosceptic Finns Party (17.5% of the votes) and the third biggest centre-right National Coalition Party (17.0%) seem to be heading into the opposition. The surprisingly strong result of the Finns Party in the Parliamentary election could carry the party's support over to the European Parliamentary election. This would bolster a nationalistic bloc threatening to shake up EU policymaking. However, according to latest Eurobarometer (Spring 2019) the public attitude in Finland towards EU is positive and 70 per cent of Finnish citizens support Finland's membership in the EU.
According to Eurobarometer (2019), approximately 50 per cent of the Finns answered that they will likely or will very likely vote in the 2019 EP elections. Fighting climate change and environmental protection were seen as the most important issue. Security and defence, human rights, migration, and fight against terrorism were also in the top 5.
Finland's 13 seats in the European Parliament will increase to 14 after UK's exit. The current MEPs are in the strongest position to become elected. In the pre-election debates, the future issues of Europe and Finland and the renewing of EU have been on the agenda. In current discussion, many of the Finnish MEPs have for example highlighted the instability of US in global power politics and climate change. Finland's upcoming EU Presidency also brings its own spice to the discussions.
 Finland's preparation to take over the EU presidency in July has clearly been affected by the election result.
SDP:n puheenjohtaja @AnttiRinnepj on tänään mukana Ylen eurovaalitentissä kello 21 alkaen! 🇪🇺🌹

Voit seurata tenttiä suorana Yle TV1 -kanavalta tai täältä: https://t.co/wIMwriELAa

#EUvaalit2019 #eurovaalit #SDP
Twitter feed video.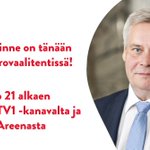 Missä EU on ollut vahva?
- Kauppapolitiikassa viimeisen 5 vuoden aikana 15 kauppasopimusta ja esim. Etelä-Koreaan sopimuksen seurauksena Suomen vienti kasvanut 40%, vastaa @juhasipila. Kyllä - vapaa kauppa ja vienti luo Suomelle työtä ja vaurautta. #euvaalit2019
Load More...