The Finns voted slightly differently in these elections than in the Parliamentary election in April.  in those elections Finland's Social Democratic Party (SDP) was the largest party with 17,7 per cent of votes populist-right the Finns Party second (17,5 per cent) and National Coalition Party (NCP) third (17 per cent.) SDP won the election but without a strong mandate as the difference between the top three parties are minor.
Now in the European parliamentary election the center-right National Coalition Party (NCP) managed to retain their three MEP's receiving 20,8 per cent of votes, the Greens Party was second (16 per cent) and SDP third (14,6 per cent.) Especially Greens success was astonishing: The party manage to pick up an additional 6,7 per cent of ballots and another seat to send two MEP's to the European parliament.
The result was a disappointment to Finland's only anti-EU party the Finns albeit the party manage to pick up an additional one percent of votes and held on its two seats. The party came fourth with 13,8 per cent of votes but this result fell short of the populist wave that the polls before the election anticipated.
From 13 Finnish MEP's 11 MEP's want to fortify EU compared to two Eurosceptic Finns Party representatives. However, the chair of the Finns Party, MP. Mr. Jussi Halla-aho announced on Sunday evening, that with two MEP's the Finns are on the same level of power with all another Finnish's parties except the NCP.
The European parliamentary election was held in Finland in the middle of ongoing government negotiations, which affected the campaigning. It appears, that the new government will be formed between SDP, the Greens, the Centre, the Left Alliance and the Swedish People's Party. If the government is formed by these parties Finland's balance of power will move from center-right towards left. For the NCP, which now appears to be heading to opposition the success in the European parliamentary election was especially morally important as the NCP has been the Finland's biggest party in the European parliament since 1999.
All parties have announced that the goal is to form a new coalition government before the upcoming Finland's EU Presidency in July. The preparation work for the Presidency are under way and it is sure, that Finland will perform its term of EU Presidency with flying colors.
Tuore varapuheenjohtajamme @HonkonenPetri @yleradio1:llä ti klo 7.30. Aiheena mm. #keskusta'n tavoitteet #budjettiriihi'ssä🍀
Twitter feed video.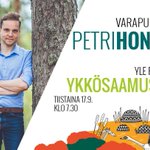 Kansanedustaja, #keskusta'n ed.ryhmän vpj @Eeva_Kalli'n mukaan lapsiperheköyhyyteen puuttumisen on työllisyyden parantamisen ohella oltava #budjettiriihi'n pääasioita 🍀💚👨‍👩‍👧‍👦
#lapset #perheet #arki
https://t.co/SLD24TiXYv
Twitter feed video.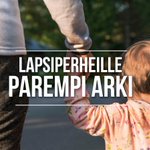 "Meillä on laaja yhteisymmärrys siitä, että vanhusten palveluihin tarvitaan lisää rahaa ja lisää hoitajia", @KaiMykkanen tiivistää.

https://t.co/pchskTY2bw #kokoomus #viidenjälkeen
Load More...