Analysis
Political Landscape
At the end of October Ireland held its presidential election (a largely a ceremonial role) in which the incumbent Michael D. Higgins was re-elected to serve another seven years. Current MEP Liadh Ní Riada was a candidate but only received 93,987 votes (6.37%)), compared with Michael D Higgin's 822,566 votes (56%). This is much lower than Sinn Fein's usual share of the vote.
Ireland currently has eleven European Parliament seats, with the top three national parties (Fine Gael, Fianna Fail and Sinn Fein) controlling eight and independents making up the remaining seats. Due to the reallocation of the United Kingdom's 73 European Parliament seats, Ireland will receive two additional seats in the next election bringing its total from 11 to 13.
As a result of this, the boundary commission published a recent report which recommended redrawing the constituencies which the Government accepted. Dublin will now have four seats, Ireland South will have five seats and the Midlands-North-West will have four seats. Northern Ireland will have no seats in the next European Parliament election.
Current MEP Nessa Childers intends to retire, while Matt Carthy of Sinn Fein intends to return to national politics. Due to poor attendance and lack of communication with his national party, Brian Crowley will not be nominated by his party Fianna Fail in the next European elections.
While the elections are still a few months out, several candidates have already expressed an interest in running. Labour's Alex White, Fine Gael's John O'Mahony, Ciaran Cuffe of the Green Party and Fianna Fáil's John Comer all intend to seek a nomination during the next election.
Although no polling has been recently carried out on Irish MEPs, a recent poll of Ireland's national party's revealed that current government incumbent, Fine Gael still remain the most popular party with 33% of the support. Fianna Fáil have 22% , Sinn Fein  14%, Independents 13% Labour 6% and the Green Party have 2% of the support. The remaining support is divided up by the Independence Alliance, Social Democrats, Solidarity-People Before Profit and Renua.
Property Tax Relief for Homeowners Paying Management Fees https://t.co/2soKEuLE1X
Join us live at 11.30am where we discuss our Bill to provide property tax relief for homeowners who are paying management fees.

Watch on FB page https://t.co/YpmIK9dSEr
Watch on our YouTube channel https://t.co/6CKoYutT4a
Twitter feed video.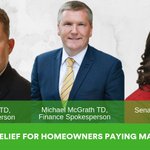 [email protected]_AndersonSF meets Kurdish hunger strike and MP Leyla Guven
https://t.co/20pWi9q8d7
Twitter feed video.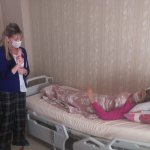 Load More...