The Italian political scene is still dominated by the rise of the League, and the right wing coalition he has built. In February, regional elections were held in Abruzzo and Sardinia, where in both cases the right wing coalition headed by the League came out on top, while the M5S, which stood on its own, suffered two serious setbacks.
The latest polls confirm the League still way out ahead on 33% but with PS rising slowly to above 20% for the first time in months and almost neck and neck with M5S.
League 33.7%
M5S  21.8%
PD  20.3%
Forza Italia 8.9%
Fratelli d'Italia  4.1%
(TGLA7  11/3/2019)
If the League does emerge the largest party in May,it will claim its choice of European Commissioner. it is likely to  target Agriculture for the current Governor of Veneto, Luca Zaia or current Agriculture Minister, Gian Marco Centinaio or go for  Justice  and Home Affairs for the current Minister for the Family, Fontana.
Italian influence in Brussels is set to drop as it loses three of the top 5 EU jobs – European Central Bank President Mario Draghi, Foreign policy chief Federica Mogherini and Parliament President Antonio Tajani. Italy is also likely to see 3 of its 4 Director Generals retire – Raffaele Mauro Petriccione(climate), Stefano Manservisi (development) and Marco Buti (budget), while Roberto Viola (Digital) is also nearing retirement age.
Le aziende giocano un ruolo fondamentale nella lotta ai cambiamenti climatici, la green economy è un nuovo modo di fare economia e sosterremo le aziende per ridurre i consumi e aumentare i profitti: un processo che dobbiamo accompagnare per #ambiente e per #economia. #il26VotoPD
Twitter feed video.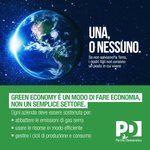 San Francisco è la prima città degli Stati Uniti a vietare l'utilizzo dei sistemi di riconoscimento facciale da parte delle forze dell'ordine.

https://t.co/77LTqKwBUf
Prima tappa di oggi nella splendida Venosa con i nostri @gparagone, @spatua, @LomutiArnaldo, @AgnesGallicchio, @mirellaliuzzi e la nostra candidata sindaco, Marianna Iovanni!

Seguiteci ▶️ https://t.co/YYzt7tZbkJ

Ci vediamo fra poco a Torremaggiore!

#AvantiTuttiTour
#23maggio
Load More...