On turnout of 33.51%, the eight seats that Latvia has in the European Parliament will be distributed between five parties, where the New Unity, Harmony, National Alliance get two seats each and Development/For! and Latvian Russian Union get one seat each.
In terms of share of the vote, New Unity was the clear winner, scooping 26.24%. Harmony were second with 17.45%, just ahead of the National Alliance on 16.40%. Development/For won 12.42% of the vote and the Latvian Russian Union 6.24%.
The lead candidate of the elections is Valdis Dombrovskis who got the highest number of votes amongst all candidates. He will be representing New Unity together with the long-serving MEP Sandra Kalniete.
The results were a surprise for the National Alliance, which had been expected to win one mandate for Roberts Zīle, but wound up with two. The election of Dace Melbārde on the National Alliance ticket means that a new Culture Minister will have to be found for the Latvian government. Meanwhile Harmony's contingent will see the suspended Rīga mayor Nils Ušakovs and the Riga Council deputy Andris Ameriks in Brussels.
Development/For will be represented by Ivars Ijabs and the Latvian Russian Union will be again represented in the European Parliament by Tatjana Ždanoka.
In general, the results of the elections were predictable and the structure of the MEPs has not changed that much and the MEPs will join the EPP, S&D, ECR, ALDE political groups, preserving current course of Latvian MEPs in the EP. There have been three seats won by the pro-Russian politicians (previously 2), from which Nils Ušakovs (Harmony, S&D) is currently involved in a corruption scandal regarding Riga City Council and Harmony election campaign. The most of the elected officials are not involved in the national level politics, four of them have already been MEPs in prior term. Dace Melbārde (National Alliance) is the current Minister of Culture, thus she will be substituted. The results should not bring any significant changes in the national political agenda.
Elected politicians:
Roberts Zīle (National Alliance, ECR)
Dace Melbārde (National Alliance, ECR)
Valdis Dombrovskis (New Unity, EPP)
Sandra Kalniete (New Unity, EPP)
Ivars ĪIjabs (Development/For!, ALDE)
Nils Ušakovs (Harmony, S&D)
Andris Ameriks (Harmony, S&D)
Tatjana Ždanoka (Latvian Russian Union, S&D)
"Since the start of the offensive on Idlib, the Syrian-Russian military alliance has used unlawful tactics to kill and injure hundreds of civilians," HRW said. https://t.co/nYU1g6spxG
Latvia's Football Federation head is sent off after just a year in the job. https://t.co/MNdmVcnPSX
Kas ir un ko dara no Latvijas ievēlētie @europarl_LV deputāti? Aicinām radiostacijas pieteikties konkursa veidošanai: https://t.co/8puwtYA4c5
Twitter feed video.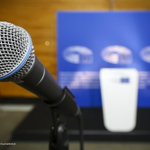 Load More...