After 4 months of negotiations, a new coalition government was finally formed on 21 January with Socialist leader Stefan Lofven managing to stay on as Prime Minister.  The coalition consists of only two parties – Social Democrats and Greens and with only 33% of the seats it starts life as one of the weakest minority governments in Swedish history and will rely on the support of other parties. It did succeed however in keeping the far right Social Democrats out of government.
The other key ministries remain unchanged, with Margot Wallstrom carrying on as Foreign Minister and Magdalena Andresson as Finance Minister.
The Swedish vote reveals increasing voter volatility, with over 40% of voters stating that they had voted for a different party than in 2014. This has clear implications for the 2019 EP elections.
"fast det går så dåligt för politikers förtroende när det gäller den allmänna bilden har förtroendet ökat dramatiskt för Ebba Busch Thor"
https://t.co/sjw5G9czPF
Svenska bönder bidrar både till biologisk mångfald och till öppna landskap. När korna betar så gör de också miljönytta. Våra bönder hör till de mest miljö- och klimatsmarta. Det ska vi vara stolta över och värna.
Twitter feed video.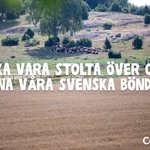 Load More...