After 4 months of negotiations, a new coalition government was finally formed on 21 January with Socialist leader Stefan Lofven managing to stay on as Prime Minister.  The coalition consists of only two parties – Social Democrats and Greens and with only 33% of the seats it starts life as one of the weakest minority governments in Swedish history and will rely on the support of other parties. It did succeed however in keeping the far right Social Democrats out of government.
The other key ministries remain unchanged, with Margot Wallstrom carrying on as Foreign Minister and Magdalena Andresson as Finance Minister.
The Swedish vote reveals increasing voter volatility, with over 40% of voters stating that they had voted for a different party than in 2014. This has clear implications for the 2019 EP elections.
Satsning på 1,8 miljarder kr till arbetet med psykisk ohälsa. @anderswjonsson

https://t.co/20aUzjltpN
Richtoff menar att ansvaret för bristerna i slutänden faller på MSB:s högsta ledning med generaldirektör Dan Eliasson, och han vill nu att regeringen ska utreda MSB-ledningens kompetens.

Länk till artikeln:

https://t.co/lTYGHTM6bm
Twitter feed video.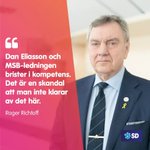 Fantastiskt att företagarna Dan Olofsson och Lennart Blecher donerar mångmiljonbelopp till judiska församlingen i Malmö! Men nu måste också övriga samhället ta sitt ansvar. "Stärk skyddet för Sveriges judar", skrev @BuschEbba och @andreas_carlson.

Busch Thor: Stärk skyddet för Sveriges judar | SvD
DEBATT. Antisemitiska föreställningar förekommer i betydligt högre grad hos personer med sina rötter i Mellanöstern och Nordafrika än hos reste...
www.svd.se
Load More...